(2022) Building a diverse and inclusive society towards a future of sustainable development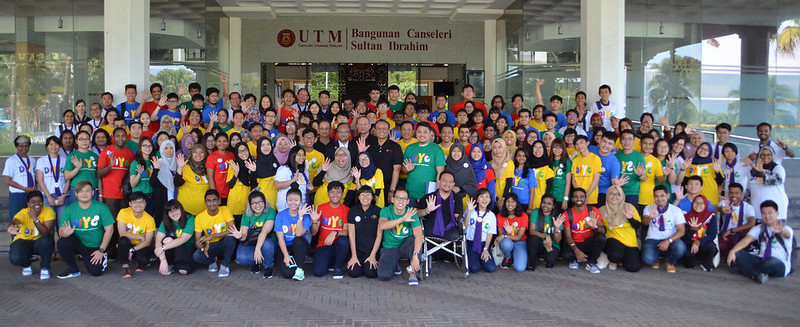 By Rehhahn Tudball
United Nations Day is celebrated every year on the 24th of October. 74 years ago, 51 countries got together and decided to make the world a better place by promoting peace and cooperation among all nations.The world today has vastly changed since. Globalization has resulted in greater international and inter-regional competition with nations wrestling for political and economic dominance. People are now finding themselves increasingly exposed to unprecedented levels of diversity amongst different cultural and ethnic groups, beliefs, and backgrounds. Unfortunately, this has been accompanied by an increase in cultural, ethnic as well as belief-related misunderstandings and stereotypes lead to prejudice, violence and even war. Sadly, these trends continue at an accelerated pace today.
At the same time, while the world is on a path of rapid development, many nations and people are not only being excluded from reaping the benefits of progress, but are being exploited. These irresponsible and self-serving practices have placed the future of our global society in grave and imminent danger. In response, there has been an impetus for global sustainable development goals.

A key agenda of the United Nations, sustainable development is defined as "the kind of development that meets the needs of the present without compromising the ability of future generations to meet their own needs ". As part of the 2030 Agenda for Sustainable Development, UN has identified 17 Sustainable Development Goals (SDGs) that it aspires to attain by 2030.

Coming from Malaysia, a country with a rich diversity of people, languages, religions and cultures, I have seen first-hand how embracing diversity and practising inclusion in our daily lives brings us closer to achieving these SDGs, in particular these 4 SDGs that are closest to my heart and that I will elaborate on:
SDG 4: Ensure inclusive and equitable quality education and promote lifelong learning opportunities for all
SDG 10: Reduce inequality within and among countries
SDG 16: Promote peaceful and inclusive societies for sustainable development, provide access to justice for all and build effective, accountable and inclusive institutions at all levels
SDG 17: Strengthen the means of implementation and revitalize the Global Partnership for Sustainable Development

It is trite that quality education (SDG 4) should be available to all, yet the startling reality is that today, 617 million youth worldwide lack basic mathematics and literacy skills . Many of these students face tremendous adversity due to discrimination based on race, social status, religion not only from their peers, but even at a systemic level from the very institutions entrusted with educating them.

A society well-versed in embracing diversity and practicing inclusion is essential in creating a conducive environment for quality education. Recognizing, appreciating and celebrating the differences in people will not only facilitate more people having access to quality education, but a better educated and more diverse community can only benefit and enrich society.As Mahatma Ghandi said, "A nation's greatness is measured by how it treats its weakest members." Reducing inequalities (SDG 10) within and among countries can be made possible only by embracing diversity and practicing inclusion. It is only by recognizing that there are different people facing different adversities from us, and it is only by making the effort to ensure that they are included in our progress and not left behind, that we can create a more equal society.

SDG 16 is promoting peace, justice and strong institutions, a goal that remains heart wrenchingly distant. With almost daily reports of political, sectarian and religious violence, coupled with rife reports on human rights abuses and human trafficking, this goal may at times seem too big and beyond what we can do.

The alternative to despair is to take action to win hearts and minds and slowly educate society. As a youth, I believe that I have the duty and ability to make a change. Just by starting with promoting diversity and inclusion in my own community, I can be a force multiplier that kick starts actions to tackle the seemingly impossible problems much bigger than myself.In conjunction with SDG 17, the actions of the individual, the community and the grassroots can spur partnerships that transcend geographical boundaries, religion, race and all the other artificial barriers that separate us. It is my belief that I can be the difference in the world, and I can help inspire big changes just by making the effort on my part to promote diversity and inclusion.

I have been fortunate enough to be part of a movement that shares my ideals on embracing diversity and practicing inclusion and empowers me to help spread these messages throughout Malaysia, ASEAN and beyond.

The Diversity and Inclusion Youth Conference (DIYC) Movement is a youth movement that seeks to develop youth from all around the world as role models and ambassadors of diversity and inclusion. Participants are equipped with the knowledge and skills, and display the exemplary behaviours, needed to promote the concept of diversity and help build an inclusive society.

The movement for diversity and inclusion was conceived in 2010, and emerged in 2012 with the inauguration of Diversity & Inclusion Youth Camp in Johor, Malaysia by DYMM Raja Zarith Sofiah, Permaisuri Johor. It has always been the intent DIYC, from the outset, to increasingly engage a wider participation and form a broader support base from educational institutions and public and private sectors across the ASEAN region.In conjunction with its 10th Anniversary, the DIYC Movement will be holding its biennial conference in March 2020. This conference will gather students, faculty members, corporate executives, volunteers and more from all over the world to participate in a Model United Nations inspired conference that instils the concept of diversity and practice of inclusion among all participants.

If you are interested to learn more about how you can play a part in building a diverse and inclusive society towards a future of global sustainable development, visit https://diycx.org to find out more about the DIYC Movement and 2020 Conference.
REHHAHN TUDBALL
Secretary-General for DIYC 2020
Article originally published on October 27, 2019 in Astro Awani. Click on Link below to view original article. The views and opinions expressed in this article are those of the author(s) and do not necessarily reflect the position of Astro AWANI.